This paper focuses on PCB manufacturing companies in the United States and the world. A printed circuit board or PCB is a method to connect the mechanical support and electrical connection of an electronic component array into the circuit, so as to realize reliable and cheap mass production. A typical two-layer PCB consists of an insulating layer (usually fiberglass resin) and two copper planes, one on each side of the insulation. These copper layers are etched into traces (wires), and vias (holes) connect two copper layers at key locations. The additional layer is covered with copper to protect the copper and provides a variety of artwork and labels.
PCB supplier type
The process of PCB production should be designed by electronic engineers first, then PCB manufacturers and assemblers will place electronic components on PCB, and finally quality control testing process.
Some companies offer a one-stop-shop for all services. Other companies provide only one or two services, in which case the customer will work with multiple companies as part of the supply chain.
PCB service center in the USA
There are a large number of small private companies in the industry, each of which performs its own PCB manufacturing services, while large electronic companies have integrated PCB departments. Some companies outsource the manufacture and/or assembly of PCB to customers when they design PCB in-house. Data about its operations is often proprietary, so it is difficult to obtain information about its true size. Therefore, our ranking is based on a combination of market value and brand awareness within the industry.
Table 1 - Leading U.S. PCB manufacturers (and assemblers)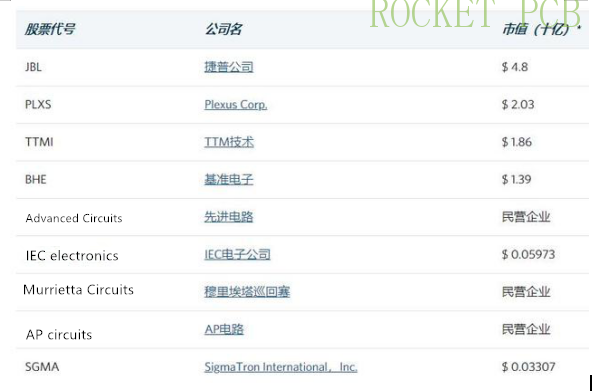 *The market value is worth billions of dollars, reflecting the value as of July 17, 2018
PCB manufacturing company information and summary
Jabil Inc. is a U.S. - based global manufacturing services company. Jabil has 90 facilities in 23 countries and 175000 employees worldwide.
Founded in 1979, plexus Corp. worked with the company to transform its concept into a branded product and put it on the market. It has more than 16000 global teams.
TTM technologies offers a variety of PCB solutions, including manufacturing, flexible PCB, and a wide range of test functions.
Benchmark electronics offers a wide range of global manufacturing services, including high-reliability electronics, a range of test functions, clean rooms, system integration, and large-scale manufacturing and assembly expertise.
Advanced circuits claims to be the third-largest PCB manufacturer in the United States. They offer expanded PCB manufacturing capabilities, including laser-drilled microvias, cavity PCB, up to 20 ounces of heavy copper, through holes in pads, microwave and RF boards, and up to 40 layers.
IEC Electronics is a Newark company founded in 1966 in New York, dedicated to providing electronic manufacturing services (EMS) for military, aerospace, medical equipment, and other industrial markets. The company provides advanced detection services for electronic components, including fault detection and testing.
Founded in 1980, Murrietta Circuits is a turnkey supplier of PCB manufacturing services, specializing in military, aerospace and medical applications. They provide PCB design, manufacturing, assembly, and circuit board testing under one roof.
AP circuits was founded in 1984, providing a series of basic rapid production PCB production services.
Sigma Tron International, Inc. is a full-service electronic manufacturing provider with a network of manufacturing plants in the United States, Mexico, China, and Vietnam. It serves a variety of markets, including home appliances, consumer electronics, games, fitness, industrial electronics, medical / Life Sciences, semiconductors, telecommunications, and automotive industries.
Top PCB manufacturing companies in the world
Most of the manufacturing is done in China, but American companies dominate PCB technology and design services. However, several international companies offer competitive PCB services.
Table 2: Top GLOBAL PCB companies

Note:* Market value in US $1 billion and converted to US dollars using exchange rates as reported on July 17, 2018
PCB company summary and information
Flex Ltd. claims to be the world's third-largest electronics manufacturing services company. Flex provides a wide range of electronic design services, including PCB design, microelectronics, robotics, etc.
Celestica Inc. provides a range of engineering solutions for the communications, enterprise and cloud, industrial, aerospace and defense, renewable energy, health technology, and semiconductor industries. Revenue in 2016 was $6 billion.
SMTC Corporation is a mid-sized provider of end-to-end electronics manufacturing services (EMS), including PCB fabrication, system integration, comprehensive testing services, case manufacturing, product design, and supply chain management services. SMTC has factories in the United States, Mexico and China.
Eltek Ltd. is a leading manufacturer of advanced PCB for complex electronic products. Eltek's products are used in some of the world's most advanced electronic products, including defense, aerospace and medical applications. Eltek is registered and fully licensed by the U.S. Department of state, meets all necessary criteria, and is an exporter of defense supplies and services.
PCB manufacturing - conclusion
In the above, we list the top PCB designers, manufacturers, assemblers, testers and suppliers at home and abroad. For comprehensive information about commercial and industrial PCB Companies in the United States, please visit Thomas supplier discovery, which has a database of more than 1700 listed PCB companies.