Top 50 PCB Companies in the world in 2019 (From Prismark)

| | | | | |
| --- | --- | --- | --- | --- |
| Ranking | Name | English Name | Headsquare | 2019 turnover |
| 1 | 臻鼎科技 | ZD Tech | Taiwan, China | 3889 |
| 2 | 欣兴电子 | Unimicron | Taiwan, China | 2781 |
| 3 | 迅达科技 | TTM Technologies | US | 2689 |
| 4 | 旗胜电子 | Nippon Mektron | Japan | 2555 |
| 5 | 东山精密 | Dongshan Precision | China | 2140 |
| 6 | 华通电脑 | Compeq | Taiwan, China | 1820 |
| 7 | 健鼎科技 | Tr pod | Taiwan, China | 1763 |
| 8 | 深南电路 | Shennan circuit | China | 1521 |
| 9 | 瀚宇博德 | HannStar | Taiwan, China | 1396 |
| 10 | 三星电机 | Samsung E-M | Korea | 1336 |
| 11 | 永丰集团 | Young Poong Group | Korea | 1302 |
| 12 | 建滔集团 | KBC PCB Group | HK,China | 1235 |
| 13 | 沪士电子 | Wus Group | Taiwan, China | 1195 |
| 14 | 揖斐电 | lbiden | Japan | 1156 |
| 15 | 奥特斯 | AT&S | Austria | 1110 |
| 16 | 名幸电子 | Meiko | Japan | 1075 |
| 17 | 南亚电路 | Nanya PCB | Taiwan, China | 1007 |
| 18 | 藤仓电子 | Fujikura | Japan | 938 |
| 19 | 大德集团 | Dae duck Group | Korea | 922 |
| 20 | 景旺电子 | King wong | China | 895 |
| 21 | 信泰电子 | Simmtech | Korea | 847 |
| 22 | 台郡科技 | Flexium | Taiwan, China | 840 |
| 23 | 新光电气 | ShinkpDenshki | Japan | 809 |
| 24 | 中央铭板 | CMK | Japan | 788 |
| 25 | 住友电工 | Sumitomo Denko | Japan | 735 |
| 26 | 耀华科技 | Unitech | Taiwan, China | 726 |
| 27 | 景硕科技 | Kin sua | Taiwan, China | 723 |
| 28 | 伊诺特 | LG Innotek | Korea | 716 |
| 29 | 志超科技 | T.P.T | Taiwan, China | 702 |
| 30 | 金像电子 | Gold circuit | Taiwan, China | 616 |
| 31 | 敬鹏电子 | Chin Poon | Taiwan, China | 579 |
| 32 | 胜宏科技 | Victory Giant | China | 560 |
| 33 | 比艾奇 | BH | Korea | 556 |
| 34 | 嘉联益 | Career | Taiwan, China | 551 |
| 35 | 兴森快捷 | SZ Fast Print | China | 549 |
| 36 | 崇达技术 | SZ Sun tak | China | 537 |
| 37 | 方正 | Founder Tech | China | 511 |
| 38 | 京瓷 | Kyocera PCB | Japan | 466 |
| 39 | 世一 | Sl flex | Korea | 463 |
| 40 | 村田 | Murata | Japan | 450 |
| 41 | 依顿电子 | Eilington | China | 445 |
| 42 | 定颖电子 | Dynamic | Taiwan, China | 443 |
| 43 | 生益电子 | DG Shengyi Electronics | China | 435 |
| 44 | 梨树 | Isu-Per asya | Korea | 426 |
| 45 | 五株科技 | WuZhou | China | 425 |
| 46 | KCE | KCE Electronics | Thailand | 390 |
| 47 | 厦门弘信 | Xiamen Hong xin | China | 382 |
| 48 | 日东电工 | Nitto Denko | Japan | 370 |
| 49 | 博敏电子 | Bom in | China | 360 |
| 50 | 世运电路 | Olympic | China | 351 |
PCB, commonly known as printed circuit board, is the mother of electronic system products, covering 5G, cloud computing, consumer electronics, automobile, military industry, aerospace and so on.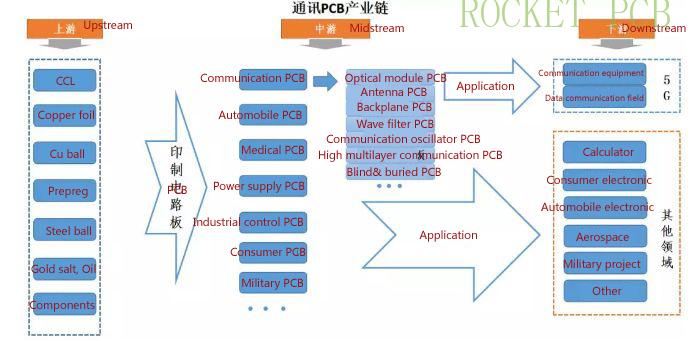 Upstream of the industrial chain are PCB raw materials, including copper clad plate, copper foil, copper ball, prepreg and other base materials. Take Shennan circuit as an example, as a PCB manufacturer over the years, the cost of raw materials accounts for more than 40% of the operating revenue. Raw materials are the most important part of the gross profit space of PCB enterprises. Among the raw materials, the purchase of copper clad laminate and prepreg accounts for about 50% of the cost of raw materials, which is the most direct upstream of PCB.
At present, in the field of copper clad laminate, Kingboard group, which is listed in Hong Kong stock market, ranks the first in the world, and Shengyi technology is the second. At present, the output value of CCL in mainland China has reached 65% of the world's output value, and the special copper clad laminate with high added value is monopolized by foreign factories such as Rogers, Taconic and Panasonic.
The midstream of the industrial chain, including various communication PCB, automobile PCB, medical PCB, industrial control PCB, military PCB, etc. Among them, communication PCB accounts for about 30% of the total PCB market.
Communication PCB can be subdivided into different types, including optical module, base station antenna, filter, vibrator board, etc. It is reported that in 2018, the market size of global communication PCB is 19. 065 billion US dollars, while the market share of base station PCB is 5-9 billion yuan, accounting for 5-10% of the total PCB output value.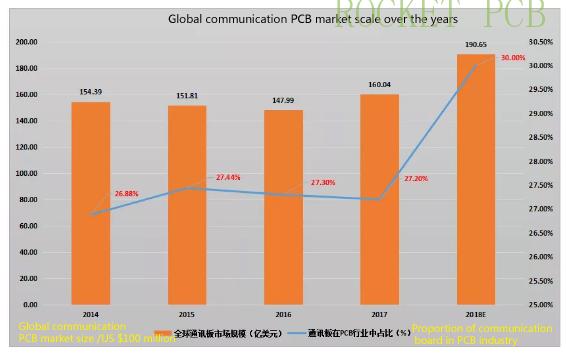 At the downstream of the industrial chain, from the perspective of output value, PCB is currently the most widely used in the field of communication, computer (IDC) and other traditional electrical insulation systems. According to WECC data, in recent years, communication accounts for the largest proportion of PCB Applications, more than 30%.
In terms of incremental market, PCB output value in transportation (new energy vehicles, intelligent driving), medical and aerospace fields is also increasing.
According to prismark, from 2017 to 2022, communication and automotive electronics are expected to replace consumer electronics and become a new driving force for the global PCB industry, with cagr5 of 3. 66% and 6. 43% respectively.
According to N. T. Information statistics, there are about 2800 PCB factories in the world, of which 116 are worth more than 100 million US dollars, mainly distributed in the US, Japan, Korea, mainland China and Taiwan.
In China, the number of PCB enterprises is about 1500, among which 137 enterprises have a revenue of more than 100 million yuan. In terms of quantity allocation, there are 46 mainland China, accounting for 40% of the total, and 25 in Taiwan, accounting for 22% of the total. In terms of output value, the output value of the world top 100 PCB Companies in 2017 was US $58. 18 billion. Among them, China output value is 12 billion 384 million US dollars, accounting for 21. 3% of the total output value.
According to Prismark data, the PCB output value of mainland China increased from 15 billion 37 million US dollars in 2008 to US $29 billion 732 million in 2017 over the past 10 years, and the compound annual growth rate was 7. 87% (2. 21% of global CAGR), and the growth rate of mainland China was obviously higher than that of the whole world. And it is predicted that the compound annual growth rate of China will exceed 3. 7% in 2017-2022, while that of developed regions such as the United States, Japan and Europe is only about 1%. Global PCB production capacity will be further concentrated in China.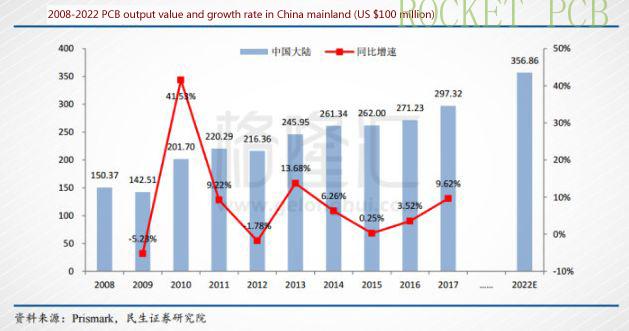 Overall, in the next few years, the growth rate of PCB market in China is only 3. 7%, which seems not fast, and the cake is not very big. However, with the explosion of new communication and automobile cycle, it is expected to replace consumer electronics. For example, in the field of base station PCB segmentation, the market space in 5G era may be more than 4 times higher than that in 4G era, and this field is pregnant with very good investment opportunities.
In June last year, the Ministry of industry and information technology of the people Republic of China officially issued a commercial license, marking that 5G construction was six months ahead of schedule. Therefore, this year is also known as the first year of 5G. Compared with 4G, 5G has three obvious characteristics: low delay, high reliability and high density. Just like this, in the field of base station PCB, there is a change of "quantity and price rise".
First, the number of base stations has increased.
According to the data published by domestic operators, the total number of 4G base stations in 2017 was 3. 28 million, and the new increment in the peak period of construction in 2014 / 2015 was close to 1 million / year. The number of new 4G base stations will gradually decrease in the next two years, when the total number of 4G base stations will be close to 4 million.
According to the calculation, 5G base station in China will be 1. 2-1. 5 times of 4G base station, and more small base stations will be equipped. It is predicted that the new increment of 5G Hongji station in 2023 will be 1. 5 times of the peak of 4G construction in 2015.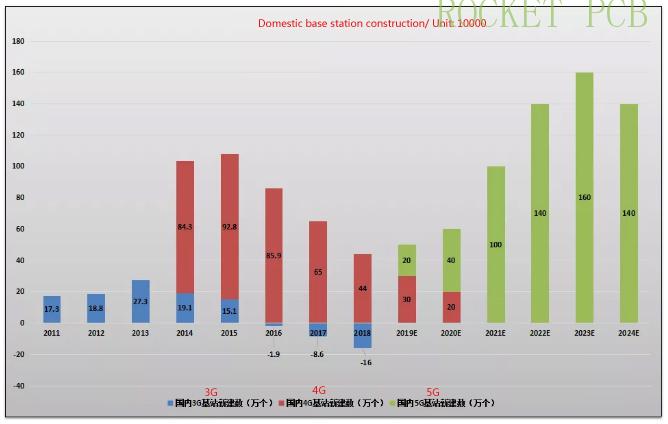 Second, the technical difficulty and PCB price are increased.
5G requires higher and higher integration density on the circuit board, which has higher requirements on the number of layers, area, drilling accuracy, wiring, etc. of the PCB. In addition, the application proportion of high-frequency and high-speed materials is expected to significantly increase the unit price of PCB products.
The use of PCB for a single 5G base station is about 3. 21 ㎡, which is 1. 76 times that of 4G base station (1. 825 ㎡). At the same time, due to the higher frequency of 5G communication and the greater demand for PCB performance, the unit price of PCB for 5G base station is higher than that for 4G base station. In general, the value of a single PCB in 5G era is about three times that of 4G.
Roughly, the market size of PCB in 5G era will be more than four times that of 4G. The incremental cake is very big, and the leading enterprises in it will fully benefit.