Overview of global IC substrate enterprises in 2021
2021-10-12
The main participants of IC substrate include Ibiden, Unimicron, Semco, SIMMTECH, and Kinsus. The top five IC package players account for about 54% of the global market. Asia Pacific is the largest consumer market for IC substrates, accounting for about 84%, followed by North America and Europe.
In 2020, the global IC packaging substrate market reached 53.9 billion yuan and is expected to reach 60. 3 billion yuan in 2027, with a compound annual growth rate (CAGR) of 1.6%.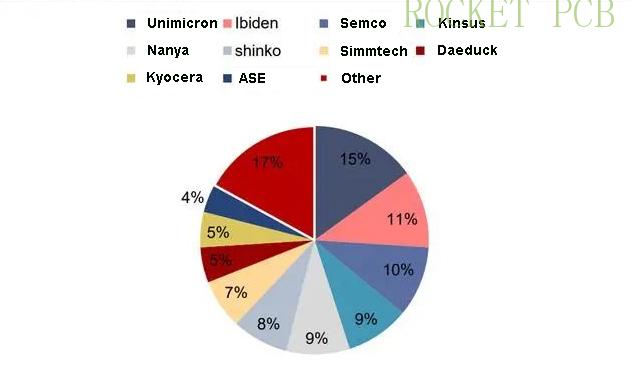 IC substrate board, also known as IC packaging substrate, is an important material used to connect chip and PCB motherboard in IC packaging. At present, it has replaced the traditional lead frame in the field of medium and high-end packaging. The main functions of the IC substrate board include providing protection, fixed support, and heat dissipation for the chip. IC substrate board is similar to PCB in structure and function and developed from HDI.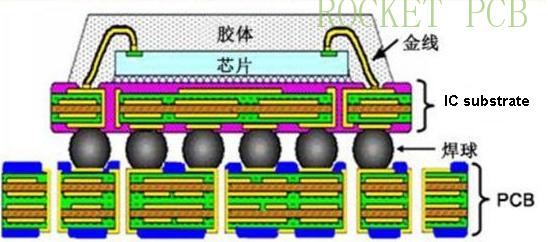 However, the technical threshold of IC substrate board is much higher than that of HDI PCB and ordinary PCB. It must have precise interlayer alignment, line imaging, electroplating, drilling, surface treatment and other technologies. It is difficult to develop, and there are higher requirements for a variety of technical parameters such as line width/line distance parameters.
Due to the high threshold of technology access, the market is highly concentrated. At present, the concentration of enterprises is high. According to Prismark statistics, the global IC substrate market space in 2017 was about US $6. 7 billion, of which the top ten IC substrate enterprises accounted for more than 80%. In 2020, the top ten packaging substrate enterprises accounted for more than 80% of the market share, of which Unimicron, Ibiden and Semco accounted for 14. 78%, 11. 20% and 9. 86% respectively, ranking the top three. Japan, South Korea, and Taiwan are the main producing areas of IC substrate boards in the world. At present, the top ten suppliers of IC substrate boards come from these three countries or regions. The Chinese mainland's IC board industry started late and is in the stage of catching up. The main suppliers include Fastprint Circuit, Shennan circuit, Zhuhai Access, etc., which account for 4%-5% of the global IC substrate board market.
IC substrate technology originated in Japan and led to the production of BT substrate. In the early stage of development, leading manufacturers such as Ibiden, Shinko and Kyocera were born. In 1999, there were 28 manufacturers of rigid organic packaging substrates in Japan, including 19 large enterprises. With the transfer of the semiconductor industry to South Korea and Taiwan, the packaging substrate industry has gradually developed from Japan to both places, driving the development of high-quality IC substrate enterprises in South Korea and Taiwan, such as Unimicron electronics, Kinsus technology, Nanya circuit, and Semco. Affected by the entry of manufacturers from South Korea and Taiwan, Japanese enterprises withdrew from the medium and low-end market and dominated high-end packaging products such as FC BGA and FC CSP. Korean and Taiwan enterprises are supporting the local packaging industry chain. Semco product line mainly provides FC POP products, and IC substrate factories are available in Daeduck, Simmtech, KCC, LC, etc. Taiwan, China, has 65% of the global wafer foundry capacity, and Nanya circuit, Kinsus, and Unimicron are the main IC substrate enterprises.
In terms of IC packaging cost structure, substrate accounts for about 38% of the total cost. It is one of the important substrates for IC packaging. In terms of the cost structure of the IC substrate board, copper clad laminate accounts for about 30% - 40%, which is the most important upstream raw material.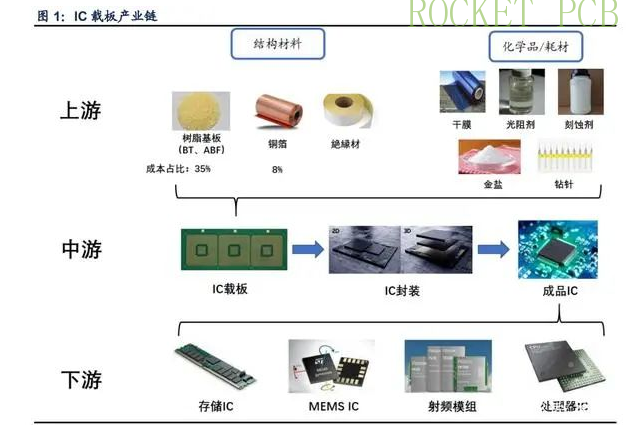 Main information of global IC substrate Enterprises
| | | | |
| --- | --- | --- | --- |
| Corporate name | Country | Main IC substrate products | Key customers |
| Unimicron | Taiwan, China | VB CSP、VB BGA、FC CSP、FC BGA | Qualcomm, Broadcom, NVIDIA, inter, AMD |
| KingsusTechnology | Taiwan, China | VB CSP、VB BGA、FC CSP、FC BGA、COP、COF | Qualcomm, Broadcom, inter |
| Nanya | Taiwan, China | FC, VB packaging substrate | Qualcomm, Broadcom, NVIDIA, inter, AMD |
| ASE | Taiwan, China | IC substrate | ASE |
| Ibiden | Japan | FC CSP、FC BGA | Apple, Samsung |
| Kyocera | Japan | FC substrate and module substrate | SONY |
| Shinko | Japan | FC substrate | Inter |
| Semco | Korea | FC CSP, FC BGA and RF module packaging substrate | Samsung, apple, Qualcomm |
| SIMMTECH | Korea | PBGA/CSP、BOC、FMC、FC CSP | Samsung, Sandi, LG |
| Daeduck | Korea | IC substrate | Samsung |
| LG Innotek | Korea | FCBGA,FCCSP,WBBGA,RF module | |
| AT&S | Austria | SLP | |
| Toppan Printing | Japan | FC-BGA | |
| KCC (Korea Circuit Company) | Korea | | |
| TTM Technologies | Hong Kong, China | | |
| Shennan Circuit | China | RF,WBCSP,FCCSP | Huawei, ASE, goer, Changdian technology, etc |
| Zhen Ding Technology | Taiwan, China | IC substrate | |
| ACCESS | China & Israel | IC substrate RF module | Samsung, apple, Huawei, Xiaomi, etc |
| Shenzhen Fastprint Circuit Tech | China | FCBGA,FCCSP | Huawei, Intel, Qualcomm, Samsung, etc |
| Danbang Tech | China | COF | Apple, Panasonic, Samsung, etc |
Introduction to some IC substrate companies
Unimicron
Founded in 1990, the head office is located in Guishan Industrial Zone, Taoyuan. It is a group of liandian responsible enterprises. It is a world-class supplier of the circuit board (PCB) and integrated circuit substrate industry. In 2006, the output value has exceeded the US $1. 1 billion. It is the largest PCB industry company in the Chinese region. It has ten Fabs in Taiwan, four HDI plants in Taoyuan County and Hsinchu County, five IC substrate plants and one IC pre-firing and testing plant; There are four production bases in the mainland, one in Shenzhen, one in Suzhou, and two in Kunshan. At present, the company is divided into the PCB business department, substrate business department, and IC OEM pre-burn test business department.
Unimicron electronics is committed to the development of new products and technologies. It is a major supplier of the world's advanced mobile phone HDI board and IC packaging substrate board.
Ibiden
Ibiden is one of the largest professional manufacturers of printed circuit board development and production in the world. Its products independently developed and produced, such as semiconductor packaging board for CPU and circuit board for multi-layer high-density mobile phone, are in a leading position in the world in terms of technical level and processing technology and have won universal praise from major users all over the world. In December 2000, Ibiden registered and established Ibiden Electronics (Beijing) Co., Ltd. in Xingwang Industrial Park, Beijing Economic and Technological Development Zone.
Semco Samsung motor
Samsung motor, founded in 1973, is a member of the Samsung Group and is one of the top electronic component manufacturers in the world. The main business includes PCB, laminated ceramic capacitor, camera module, WiFi module, etc. Its PCB products include HDI, rigid-flexible bonding board, BGA, and FCBGA. The company has fully developed PLP packaging technology since 2015. At present, there are five factories: Busan factory in Korea produces HDI, rigid-flexible bonding plate and FCBGA, Sejong factory in Korea produces BGA, Tianjin factory in Korea produces PLP, Kunshan factory in China produces HDI, and Vietnam factory produces HDI and rigid-flexible bonding plate. In fiscal 2017, its PCB revenue was 1469. 4 billion won (about US $1. 35 billion, including about 660 million substrates).
Kinsus
Kinsus was founded in September 2000 and invested in ASUS. Its PCB products mainly include BGA, FCBGA, HDI, FPC, and multilayer boards (among which the substrate board accounts for more than 80% of the revenue). It has factories in Taiwan and Suzhou. Among them, Taiwan factories are mainly engaged in the production of medium and high-end BGA and FCBGA (BGA of Shilei factory, FCBGA, and BGA of Tsinghua factory, FPC of Bayberry factory, FCBGA, and BGA of Xinfeng factory). Suzhou factory is mainly engaged in the production of multilayer board, HDI, and medium and low-end BGA. In the fiscal year 2017, its revenue was NT $22. 335 billion (about US $750 million), including about 620 million on board.
Nanya
Nanya circuit board was originally the PCB division of Nanya plastics under Formosa Plastics Group (started in 1985) and became independent in October 1997. Its PCB products mainly include BGA, FCBGA, HDI and multilayer boards. It has established PCB factories in Taiwan and Kunshan, among which Taiwan factories are mainly engaged in the production of medium and high-end BGA and FCBGA (Taoyuan Luzhu No. 1, No. 2, No. 5, No. 6 and No. 7 plants and Xinbei Shulin No. 8 plant), Kunshan plant (plant 1 and plant 2) is mainly engaged in the production of multilayer boards, HDI and medium and low-end BGA. Before 2010, South Asia mainly undertook Intel orders from Japan's NGK front section (South Asia was responsible for the front section process production and NGK was responsible for the rear section). Since NGK stopped supplying to Intel at the end of March 2010, South Asia directly undertook Intel orders(passed the full process certification of Intel at the end of June 2010).
At present, there are 12072 employees in the South Asia circuit board. In fiscal 2017, its revenue was NT $26. 623 billion (about US $900 million, including about 590 million boards). Among them, FCBGA was about 42%, BGA was about 24%, HDI and others were about 34%.
Shinko electric
Shinko electric was founded in September 1946 and has 4838 employees. It belongs to the Fujitsu group. Fujitsu accounts for 50% of Shinko's shares. Its main products include substrate plates (BGA and FCBGA), lead frame, sealing and testing, electronic components, etc. in April 2018, the company decided to invest the US $190 million to build a new substrate plate production line and expand production capacity by 20%. In fiscal 2017, its substrate plate and packaging revenue were 84. 923 billion yen (about US $740 million, including about 560 million substrate plates).
SIMMTECH
Simmtech was founded in 1987. Its products mainly include HDI and BGA substrate plates. It has built PCB factories in Qingzhou, Korea, Maoye, Japan and Xi'an, China (Korea: HDI and BGA, Japan: BGA (former Eastern factory), Xi'an: HDI). In fiscal 2017, its revenue was 811. 6 billion won (about 750 million US dollars, including about 500 million substrate plates).
Daeduck Dade
Founded in January 1965, Dade is the earliest PCB manufacturer in Korea. It has two PCB Companies: Daeduck GDS and Daeduck. Daeduck GDS's products mainly include multilayer board, FPC and HDI. Daeduck's products include high-rise board, HDI, and substrate board (BGA). It has PCB factories in Korea, the Philippines, and Tianjin, China. The total revenue of the two PCB Companies in fiscal 2017 was 968. 6 billion won(about 890 million US dollars), including about 310 million substrate plates.
Kyocera
Founded in April 1959, Kyocera is the world's leading manufacturer of electronic components (including automotive and other industries, semiconductors, electronic components, etc. ), equipment and systems (information and communication, office document resolution, life, and environmental protection, etc. ). Kyocera group has 265 companies and 75940 employees. In fiscal 2017, the revenue of the whole group was 1577039 million yen (about US $13. 7 billion))。
Kyocera's PCB includes organic substrate boards (BGA, FCBGA), HDI, high-rise digital boards, ceramic substrates, etc. in fiscal 2017, its PCB revenue was about $660 million, including substrate boards of about $300 million.
ASE material
ASE material (or ASEE) is the download board manufacturing company of Riyue group, the world's largest semiconductor packaging, and testing company. It has built factories in Kaohsiung, Shanghai and Kunshan, Taiwan. Its main products are BGA substrate boards, including BOC, FBGA, PBGA, memory card, FCCSP, etc. in fiscal 2017, its substrate revenue was about the US $290 million.
In March 2018, ASE and TDK jointly invested NT $1. 5 billion (about US $50 million) to officially establish ASE embedded electronics in Kaohsiung, Taiwan; in the future, ASE will manufacture embedded substrate boards using SESUB (semiconductor embedded in the substrate) technology authorized by TDK.
Shennan circuit
Shennan circuit was founded in 1984. Its main production bases are located in Shenzhen, Jiangsu Wuxi and Nantong, China. It has technical support and sales service centers in North America and R & D stations in Europe. Shennan circuit has always focused on the field of electronic interconnection and is committed to "building a world-class integrator of electronic circuit technology and solutions", it has three businesses: printed circuit board, packaging substrate and electronic assembly, forming a unique "3-in-one" business layout in the industry.
Shenzhen Fastprint Circuit Technology
Shenzhen Fastprint Circuit Technology Co., Ltd., established in 1999, is a listed enterprise in Shenzhen Stock Exchange. After nearly 20 years of development, the company has become a leading enterprise in the field of PCB models. XINGSEN technology products are widely used in communication, network, industrial control, computer application, national defense, aerospace, medical treatment and other fields. XINGSEN technology's future goal is to develop a PCB model and multiple varieties. A larger rapid manufacturing platform will be established in the field of small-batch; rapid proofing, mass production manufacturing services of advanced IC substrate products and supporting technical services of IC industry chain will be provided; an open technical service platform will be built to build a team of senior technical consultants and experts in the industry, so as to form a comprehensive solution capable of general core technologies in the field of electronic hardware design, combined with supporting multi-variety rapid manufacturing services. The ability of mounting service provides customers with personalized one-stop service.
Zhuhai Access
Zhuhai ACCESS packaging substrate Technology Co., Ltd. was established in Fushan Industrial Zone, Doumen, Zhuhai in April 2006 with a joint investment of RMB 500 million by Founder group and AMITEC company of Israel. Zhuhai Access is the first independent innovation enterprise that adopts internationally leading coreless technology to carry out research and development of nuclear-free packaging substrate and achieve industrialization. It is a national high-tech enterprise and the people of Guangdong Province. It is a technology enterprise and an intellectual property advantage enterprise in Zhuhai, with Zhuhai municipal key enterprise technology center. On July 31, 2012, it was officially renamed Zhuhai Access packaging substrate Technology Co., Ltd. as Zhuhai Access packaging substrate Technology Co., Ltd.
Danbang Technology
Founded in 2001, Shenzhen Danbang Technology Co., Ltd. is a national high-tech enterprise specializing in the R & D and production of flexible circuits and materials. It is the industrialization base of the achievements of the national high-tech research and development plan and has a national flexible circuits and materials R & D center.
The company has a number of independent intellectual property rights and has the core technology of the industrial chain from flexible materials to flexible packaging substrates to chip packaging components, providing customers with complete flexible interconnection and packaging solutions for design, manufacturing, and service. The company's main products include flexible FCCL, high-density FPC, chip packaging COF substrates, chip and device packaging products, and flexible packaging-related functions. Curing adhesive, micro adhesive film, etc. are mainly used in high-precision intelligent terminal products with narrow space and movable folding. They are widely used in all microelectronic fields such as consumer electronics, medical devices, special computers, intelligent display, high-end equipment industry and so on.