INTRODUTIONS OF DOUBLE SIDED PCB
2020-06-15
Double-sided PCB from Rocket is very common in both PCB production and PCB prototype circuits allowing a higher density between components and it makes the layering of tracks an easier process. Compared to the multilayer PCB, double layer PCB do not need laminating but need plating in order to realize the function of vias. If you are looking for custom pcb board, Rocket is capable and will give you full countenance in the format of one-stop PCB solution.

Double Sided PCBs (also known as Double-Sided Plated Thru or DSPT) circuits are the gateway to higher technology applications. They allow for closer (and perhaps more) routing traces by alternating between a top and bottom layer using vias. Today, double sided printed circuit board technology is perhaps the most popular type of PCB in the industry.
Two layers PCB boards are broadly used and comparatively easy, every PCB manufacturer can perform it, therefore the levels of competition are always around the cost.
Benefits of Double Sided PCBs:
More flexibility for designers
Increased circuit density
Relatively lower costs
Intermediate level of circuit complexity
Reduced board size (which can reduce costs)
horizontalApplications of Double Sided PCBs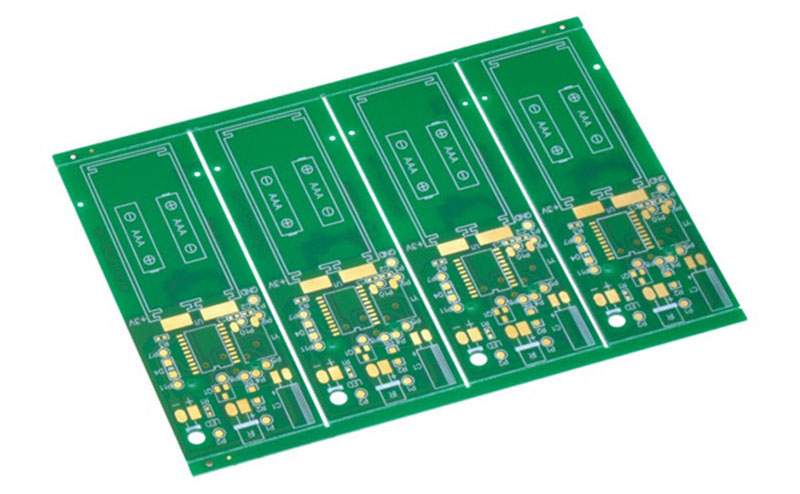 There are near limitless applications for old and new designs. Fine line surface mount, ultra high copper build, high and low temperature, Solder coated, Silver, and Gold finishes are just a few examples of double sided printed circuit board applications.
THE FOLLOWING ARE APPLICATIONS IN WHICH DOUBLE SIDED PCBS CAN BE USED:
Industrial controls
Power supplies
Converters
Control relays
Instrumentation
Regulators
UPS systems
Power conversion
HVAC
LED lighting
Hard drives
Printers
Phone systems
Power monitoring
Automotive dashboards
Line reactors
Test equipment
Amplifiers
Traffic systems
Vending machines
Rocket PCB has an abundance of industry experience of small batch PCB manufacturing, after a period of industry development and customer build up, has built good relations of cooperation with world-famous enterprises, continues to be identified by customers with regards to product quality stability, technical level and technical service, and it has formed a larger brand awareness on the industry.
At the moment, the company has offered a large variety of clients, including terminal clients, EMS businesses, PCB traders, and so on. Its downstream applications cover industrial control, medical electronic communication equipment, communication equipment 5G, automotive electronics, intelligent house, led and a lot of other fields.
At Rocket PCB,we've been using A-class FR4 materials, never scrimp, our technique is small profits but quick turnover, so within the premise of quality assurance, our PCB cost is extremely competitive.
We passed ISO 9001 quality system, TS16949, UL standard, ROHS standard and SGS lead-free certification and related industry certifications.