Company Advantages1.
Rocket PCB dual layer pcb is qualified. This includes meeting essential standards, showing regulatory compliance marks, and conforming to other regulations.
2.
This product causes no pollution. It will not produce or emit hazardous chemicals which may be mixed with the water that would cause harm.
3.
It has considerable economic benefits.
4.
It could have limitless applications with all these features.
Anylayer/ ELIC (Every layer interconnection)
In order to adapt to the development of CSP and inverted chip packaging (FC), it is necessary to use high density PCB with internal via hole (IVH) structure. In order to break through the limitation of traditional HDI high density interconnection laminates, it is necessary to import higher-order any layer interconnection technology so that any layer can be arbitrarily connected to another layer to form internal conduction.
The interconnection structure of via hole (IVH) is designed to be used in higher-level HDI products to achieve the purpose of light, thin, short and small.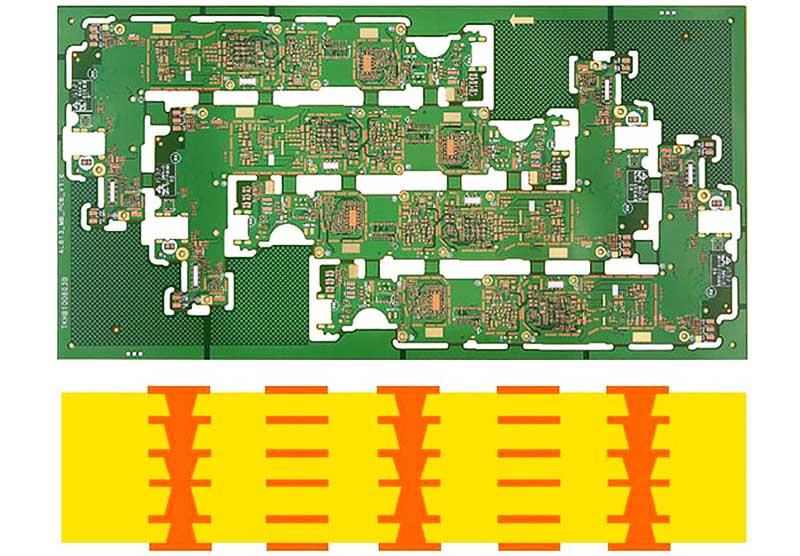 Advantages
Improving high Density Wiring of Products

Reduce the weight of PCB substrate: about 60%
Reduce the size of manufactured handsets: about 30%
......

ROCKET PCB Any Layer PCB (ELIC)process flow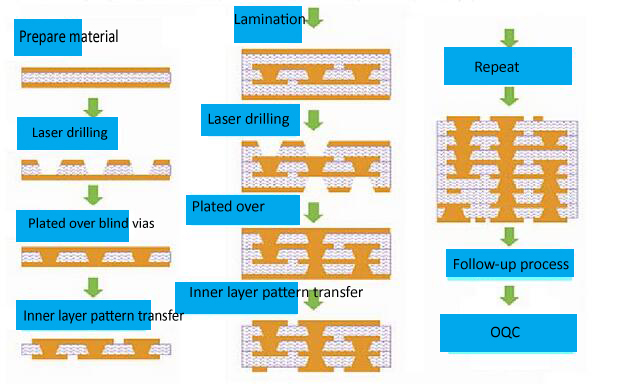 Anylayer PCB DFM suggestion for layout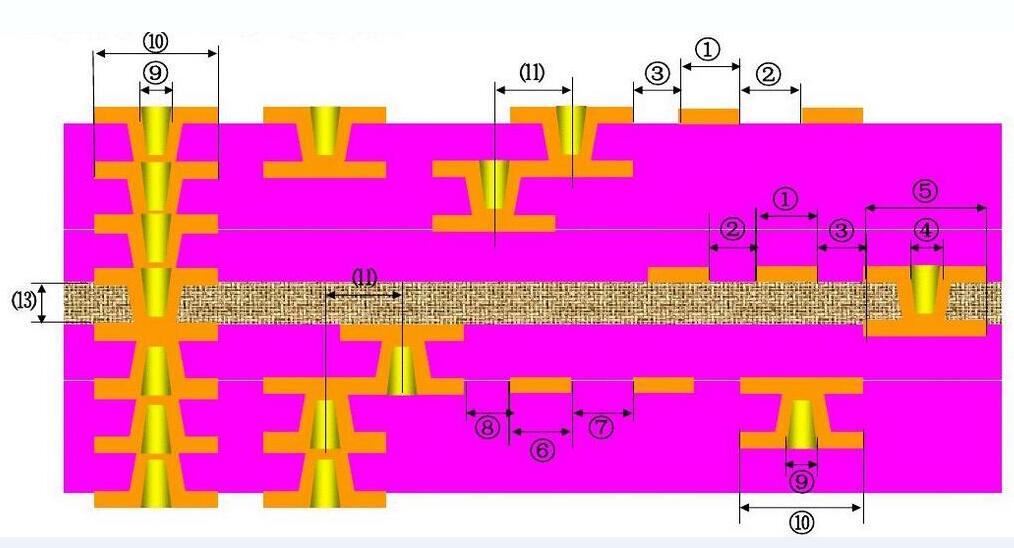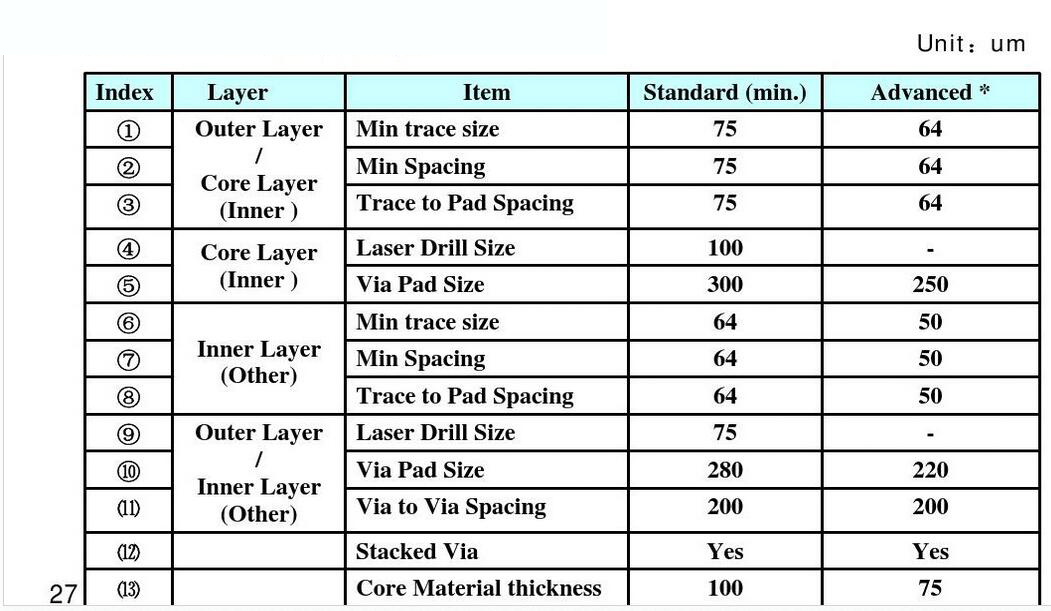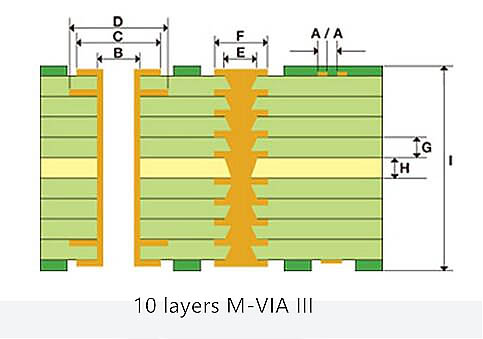 ◪ Any Layer PCBs with laser vias and filled plating on each layer

◪ 0.4mm thin spacing CSP supported by Any layer interconnection

◪ Mass-production of 10-layer M-VIA Ⅲ (Any Layer PCB) for mobile devices

The technology of making any layer HDI is summarized as follows
1) Precision alignment technology is one of the key technologies in making any-layer HDI board. In order to achieve precise inter-layer alignment effect, scientific and reasonable alignment target design and alignment mode are prerequisites.
2) All factors affecting the expansion, shrinkage and deformation of any layer HDI board need to be eliminated as far as possible. Precise inter-layer alignment effect of any layer HDI board will be affected by pre-placement of core board, plate selection, equipment difference and operation control.
3) Precision alignment technology is a control technology that runs through the whole process of making any- layer HDI board. It has very high requirements for equipment, materials, process parameters, personnel operation and production environment.
With the development of PCB towards light, thin, short, small and high reliability, the requirement of interlayer alignment accuracy for any layer HDI boards will bring more challenges and higher requirements for existing interlayer alignment control technology. In order to solve the problem of alignment accuracy of any layer HDI board, it is necessary to make a thorough study on it, make a comprehensive and detailed analysis from the technical principle to the actual operation, and find out the factors that affect the alignment accuracy to eliminate or decrease one by one. So that our inter-layer precise alignment technology is more mature, its control is more scientific, systematic and standardized, to meet the current production needs of higher-end PCB, to seize more market opportunities.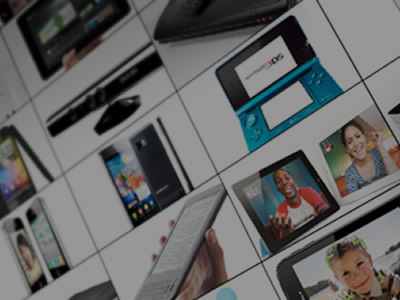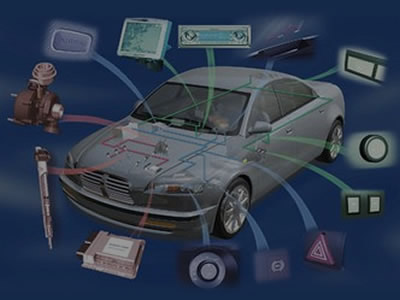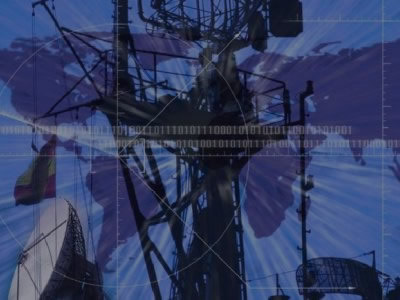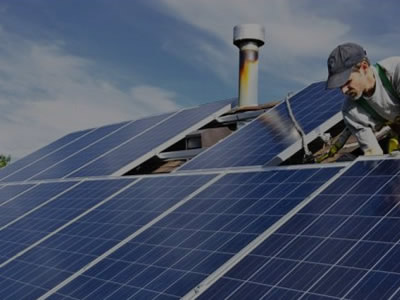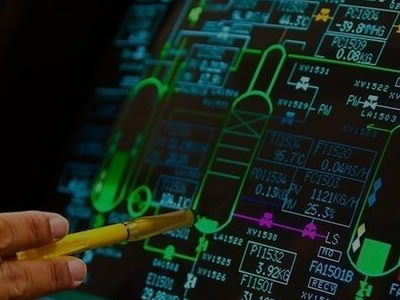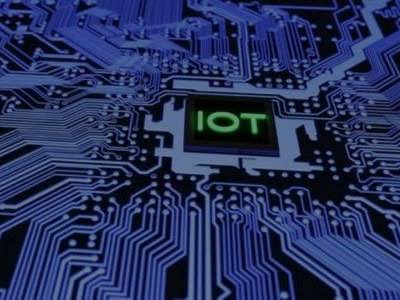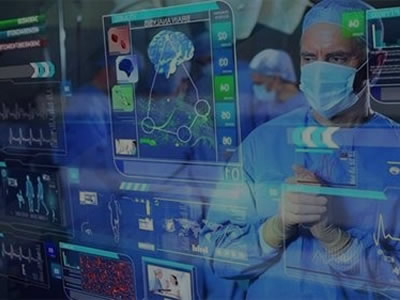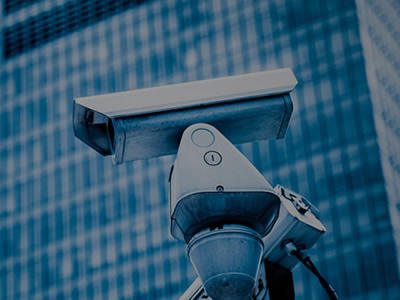 Company Features1.
Offering the finest
pcb manufacturing
process helps Rocket PCB to advance in the industry.
2.
double layer pcb is produced by our modern production lines and inspected by our experienced technician.
3.
To be able to attract more clients, Rocket PCB will concentrate on the quality of customer satisfaction. Ask online! Rocket PCB Solution Ltd. provides advanced any-layer pcb solutions that turn the vision of their customer into reality.Ask online! Rocket PCB Solution Ltd. adheres to the service tenet of providing wholehearted service to customers. We are deeply trusted by customers. Ask online! To be a pioneer in pcb manufacturing process sector, Rocket PCB Solution Ltd. has been doing our utmost to serve clients.